BARCELONA BIKE ROUTE
Montjuïc – Barceloneta – Sagrada Familia
The Barcelona bike route is a journey through one of the most beautiful and fascinating cities in Europe. Barcelona is a city in continuous transformation, a whimsical, flirty and dynamic place that challenges its visitors with its constant evolution. Discover it by bike.
Barcelona, as it can be seen in its monuments, its structure and its history, is a city of past, present and future.
You'll follow a route that passes by some of the greatest works by masters of architecture, many of which are in the modernistic style, a key element of Barcelona's identity. But we also mustn't forget the gothic style, which is very much present in the oldest part of the city.
This bike tour through Barcelona starts at the Montjuic fountains, where you'll have fantastic views of the city, and if you dare to do the full 49 km route, you'll be able to visit every one of the most interesting sites, whether for their aesthetic, historical or cultural value.
You'll visit the Olympic zone, the beaches, the port, the monument to Columbus and the famous Ramblas. You'll follow the modernist route with its Chief Architect Antoni Gaudí taking the lead. You'll get to visit his most emblematic works: the Sagrada Familia, La Pedrera and Güell park, all of which are world heritage sites.
You'll discover the gothic quarter, Borne and the impressive Santa Maria del Mar Basilica, the so-called cathedral of the sea.
You'll also cycle up the Paseo de Gracia, which is known as the grand boulevard of the city. This is where most of the national and international companies have their stores, making it the main shopping area in the Catalan capital.
It concludes back at the Montjuic fountains, where you can relax in the magnificent gardens.
If you want to see Barcelona by bike, this is the  tour for you.
If you want to combine it with other routes and stay on the Costa Brava for longer, check out our Ride Camps.
Difficulty
| | |
| --- | --- |
| September 29, 2018 | 203€ |
| October 13 & 23, 2018 | 203€ |
| November 10, 2018 | 203€ |
| December 8 & 29, 2018 | 203€ |
| January 19, 2019 | 203€ |
| February 9, 2019 | 203€ |
| March 2 & 23, 2019 | 203€ |
| April 20, 2019 | 203€ |
You can propose new dates in [email protected]
If you do Private you can choose the dates you want.
These prices include the transfer between Costa Brava and Barcelona. See below the option "no transfer".
Expert guide for the area
Meals in Barcelona
Transfers to/from service point
Bike hire
Accident insurance
Without transfer from/to Costa Brava (-144€)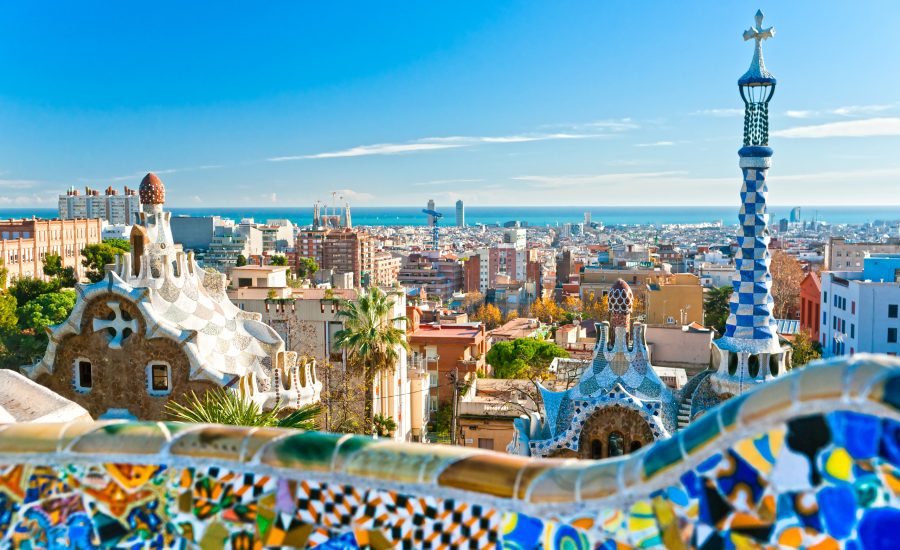 Transfer to Barcelona
Montjuïc fountains
Olympic Stadium
Montjuïc Castle
Colon
Port
Barceloneta
Olympic port
Beaches
Forum
Diagonal
Glories (BCN building)
Monumental
Sagrada Familia
Paseo de San Juan
Arco del Triunfo
Citadel
Catalonia parliament
Borne
Santa Mª del Mar
Plaza de San Jaime
Cathedral
La Rambla
Plaza Cataluña
Paseo de Gracia
Casa Batllò
La Pedrera
Grace
Parc Güell
Mirablau (Tibidabo)
Carretera de las Aguas
Av. Pearson
Av. Pedralves
Diagonal
Numancia
Plaza España
Montjuïc fountains.
Transfer to Sant Antoni de Calonge

Personalise it!
If you would like something more personal and intimate, then we have just what you are looking for. You can do any of our routes and Ride Camps privately.

GPS system
We also have the most modern and updated GPS devices, so that your route will always be safe, with the best options readily available.

Bike delivery
We can deliver as well as pick up your bike no matter where you are. You decide!

Massages
There is nothing more relaxing than a good massage after each bike ride. You'll be like new afterwards!

Assistance en route
You'll have our rapid assistance with any problem that may come up regarding you personally or with the bike.
Would you also like to rent a bicycle?
Don't worry. You can let us know during the route reservation process.